This Asian Pacific American Heritage Month, AIGA Baltimore is spotlighting several Baltimore-based creatives of Asian, Pacific Islander, and Desi American heritage. We are excited to have the opportunity to bring awareness to their work and hear what they have to say about the Stop Asian Hate movement. Look forward to seeing these creatives on your feed over the next few weeks! Make sure to follow us on Instagram at @aigabaltimore to see all of these amazing creatives and some of their featured work.
Andrea Chen McKinnon
Andrea Chen McKinnon is a new mom, designer, actress, and owner of the codex club – which featured not just her own original illustrations- but over 50 other local artists here in Baltimore. In five years she grew the company from an Etsy into two retail stores. 
I hope that this pandemic teaches us all how important supporting one another is- especially when it's tough- we need community and empathy. Being Asian is not a virus- hate is. It's always been important to me to feature minority and LGBT employees and makers in our stores, and it has shocked and saddened me to hear stories of people avoiding Asian American businesses and harassing Asian children and older people in public because of a virus that has affected all of us. It's unacceptable and needs to stop. My parents came to this country to build a better life for us, and have suffered so much this year- they still haven't been able to meet their first granddaughter yet, my baby who was born during quarantine, but hopefully will be able to soon. 
AIGA plugged me into my first network of friends when I moved to Baltimore from New York- I loved being communications chair, and one of the girls from those early days ended up being my bridesmaid. I'm grateful to you guys for doing this spotlight and can't recommend the organization enough for other designers and those interested in creative resources here in the city.

Dilpreet Dayal
Dilpreet is a graphic designer and illustrator based in Maryland and a first-generation American born to South Asian parents. She graduated from Towson University with a BFA in Graphic Design and a minor in Women's and Gender Studies. She has been working as both an in-house and freelance designer for the past eight years. Dilpreet is interested in how art and design explore the intersections between racial, queer, and cultural identities. On a normal day, she can be found drinking bubble tea, collecting children's books, and re-posting TikToks to her Instagram story. 
Growing up in a Sikh Punjabi household in America, there was a difference between who I was supposed to be at home versus the outside world. I grew up compartmentalizing my identities to feel included, but also to feel safe. However, I realized that the only way to embody all of my identities is to create a safe space, not just for myself, but for others as well. Safe spaces come from uplifting the voices of other communities and from anti-racist movements like #StopAsianHate. These movements give us the language and tools to educate ourselves and take transformative action in order to create safer and more inclusive spaces for all minority groups.

.

Hayelin Choi
Hayelin's work is guided by a strong belief in making information more accessible for all. She is the author and/or illustrator of five children's books published in South Korea, China, and the US. She is currently working as a freelance designer and illustrator focusing on educational and non-profit organizations. She teaches at the Maryland Institute College of Art and the George Washington University—Corcoran School of Art. Some of her collaborators include Amnesty International, UNICEF, Pentagram, The Johns Hopkins University, The Maryland Institute College of Art (MICA), Readers to Eaters, Highlights for Children, City Parks Foundation, and Radish Lab.
I'm scared and sad about what's happening to Asians and Asian Americans living in the US. However, I'm thankful that I'm surrounded by caring friends and family in Baltimore. They remind me that the world can be a better place even though we have a long way to go. We can work together to stop Asian hate as a community.
Mina Cheon
Mina Cheon is a Korean new media artist working in Baltimore and a professor at the Maryland Institute College of Art (MICA).
The global art activist Mina Cheon draws inspiration from the partition of the Korean peninsula, exemplified by her parallel body of work created under her North Korean alter ego, Kim Il Soon, in which she enlists a range of mediums including painting, sculpture, video, installation, and performance to deconstruct and reconcile the precarious history and ongoing coexistence between North and South Korea. Her solo exhibition at The Korea Society, presented during the height of #stopasianhate movement and continuing tensions on the Korean peninsula, showcases her most recent painting series of Unification Flags." (Solo Show @ The Korea Society)
The recent podcast Glitter & Doom "Ep. 24: My Oh My, Chocopie (feat. Mina Cheon)" hosted by MacKenzie Fegan sheds light on the challenges of racism and violence against Asians, and how Mina Cheon's work, in particular, staged at the Asia Society Triennial helped with the "refusal to be invisible" as "Asian art is living and diverse."
I'm deeply saddened by the visible rise of hate crimes against Asians, Asian Americans, Pacific Islanders. I always felt racism (along with sexism and xenophobia) during my years living in the United States (and differently in Korea), but I'm not sure whether or not I'm supposed to feel comforted now that people believe me when I speak up about it. It is also disturbing that acknowledgment of racism gets highlighted during peak times of violence. Dreaming for unity and protesting for peace is something that is much needed everywhere at all times.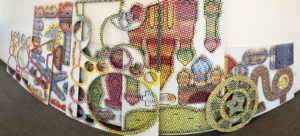 .

Nguyên Khôi Nguyễn
Nguyên Khôi Nguyễn is a multi-disciplinary artist and educator. He is the author of Bittersweet: A Pandemic Sketchbook and the multimedia graphic novel, The Gulf.  With the website, Mom's Viet Kitchen, Nguyên shares multimedia recipes that reveal intimate family stories. He is also the vocalist, pianist, composer, and bandleader of the jazz trio: Superior Cling. 
Nguyên is currently a digital media lecturer at Loyola University Maryland. He previously served as the senior video producer/editor at Science Magazine. He is a multiple American Graphic Design Awardee and an Ignatz Award nominee. Nguyên lives in Baltimore, Maryland with his wife and terrier.
As a Vietnamese-American, I am heartsick by the rise of anti-Asian harassment and violence. I have turned to the Asian-American community in Baltimore, which has welcomed me and helped me process this tragic time. Supporting my AAPI students at Loyola University Maryland, listening to and sharing our stories, protesting, and bearing witness through art are ways I've tried to cope. We cannot be silent. Stop Asian Hate. Stand up for AAPI lives.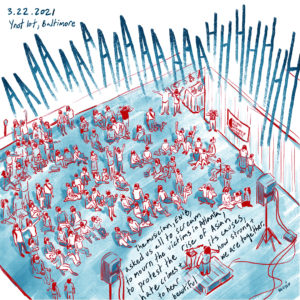 Image 1:  Screaming through our masks.
A drawing from my graphic novel: Bittersweet: A Pandemic Sketchbook. A moment from the vigil hosted by Baltimore Asian Resistance In Solidarity, @thechinatowncollective, Baltimore Harm Reduction Coalition.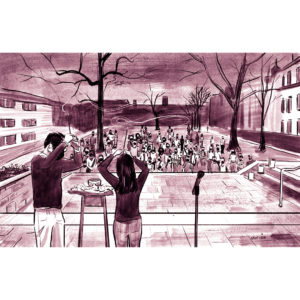 Image 2: Incense on the quad.
A drawing from my graphic novel: Bittersweet: A Pandemic Sketchbook. My wife and I light incense to honor the victims of the Atlanta mass shooting. Students and faculty came together for this vigil hosted by Loyola University Maryland's Asian Culture Alliance and Campus Ministry.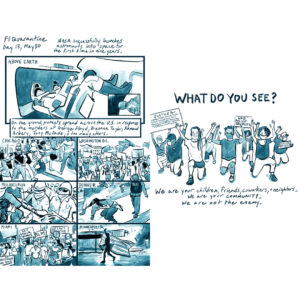 Image 3: Bittersweet: Page Spread 19, 2020, Digital Book (PDF), 5.5"X8.5"
A page spread from my graphic novel: Bittersweet: A Pandemic Sketchbook. This spread documents the protests against racism and police brutality that erupted in the pandemic summer of 2020. In Bittersweet, I use a diary structure to document my experiences during the pandemic.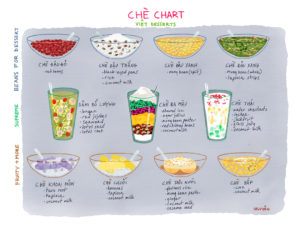 Image 4: Che Chart. 2020. 16"X12"
A diagram of Vietnamese desserts.
.

Mandy & Ali
We are Mandy and Ali! We are two sisters that started an online shop, Su & Lou. We sell printed apparel –– our core is our Bmore Kind line! We started our @suandlou Instagram account as a creative outlet in 2018. We love interiors and started out documenting the process of decorating our new apartment. On top of that, we would post about our favorite coffee shops, activities, and restaurants around Baltimore. In the summer of 2020, we designed two t-shirts to sell to raise money for the Lung Cancer Research Foundation and the Loveland Foundation. We ended up selling nearly 1,000 shirts with the help of our friends, family, and the power of social media. Fast forward a few months, and suandlou.com is up and running with a variety of items (with more around the corner)!
We are devastated, heartbroken, exhausted, and scared. No words will be able to describe how we feel as Asian Americans. It is our duty to educate ourselves and speak out against these hate crimes, discrimination, and racism. Hopefully, one day, our world will choose love over hate.

.

Nhu Nguyen
Nhu Nguyen (she/her), an art director at JPA Health and creative strategist at Brand Nhu Creative, spends her time focusing on creative advocacy and giving back. She pulls much of her inspiration from her personal experiences as a first-generation AAPI immigrant with disabilities. What was once something she tried to hide, she now embraces the things that make her stand out and adapts the mentality of welcoming imperfection in the creation of her work. Her work is often emotionally and organically driven, emphasized by her frequent use of bolder colors.
Being a Vietnamese-American, Nhu has experienced the effects of the Anti-Asian hate crimes. While there is some fear, she is encouraged to see many stand up against the crimes with the #StopAsianHate movement. She notes, "Many AAPI people are traditionally brought up to not speak out or 'complain.' In a lot of Asian cultures, it's frowned upon to put attention on our struggles because it's considered shameful, and pride/honor is a big thing for us. However, when there is a clear show of support, it helps us feel more valid in our discomfort and fear."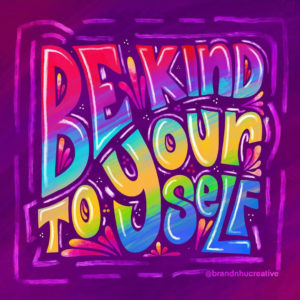 .
Chanda Kumar
Chanda (she/her) is a Graphic Designer and Marketing Coordinator at LMD Agency. She graduated from Towson University in 2016 with a Bachelor of Fine Arts in Graphic Design and a Bachelor of Science in Journalism. Chanda is passionate about the cultural and social impact of design and how it can create inclusive experiences for people from all walks of life. She has always been interested in learning about different cultures and has found it enriching to understand the experiences of everyone she meets. In her free time, you might find her illustrating on her iPad, listening to a true-crime podcast, or watching a Bollywood movie.
After seeing all of the tragic attacks and violence against Asian Americans, I am angered and disappointed. In the last year and even before then, hate against BIPOC has been ongoing. One of my favorite quotes from a classic Bollywood movie is "Life is too short for hatred." Everyone should live by this philosophy. Everyone should feel respected, regardless of where they come from, what they look like, or how they identify. I hope that the Stop Asian Hate movement, the Black Lives Matter movement, and so many others get the actionable acknowledgment they deserve. These movements should not only be worth an Instagram story and then promptly forgotten. I dream of a day where violence against others does not exist. We should all come together, listen and learn from each other, and grow as a unified community.