There are a plethora of amazing events in our area for creatives and creative professionals, so we're shining a light on these events by groups like AMA Baltimore, BCAN, Baltimore Print Studios, AAF of Baltimore, Ladies Wine and Design Baltimore, and more. Do you know of an event that belongs on this list? We'd love to hear about it! Email us at promotions@baltimore.aiga.org with your event information.
Each month we will be featuring a Baltimore Designer, Photographer, or Artist! For March, our inspiration is coming from Courtney Glancy, Art Director at idfive. In her free time, she explores taking photos in Baltimore on her Sony A7III & Pixel Smartphone. In a recent post of the Patterson Park Pagoda, she said, "Way back in college, we had a photography assignment called 'quality of light.' I think I've been obsessed with light ever since. To me, this photo is the definition of when someone says that light is spilling or pooling." Check out Courtney's Instagram, @charm_city_gal, for more amazing Photography.
March Events
3/3
She-Suite Marketing Leadership Panel
Get ready for a few of the area's female marketing powerhouses to drop some serious knowledge. On Tuesday, March 3rd, during Women's History Month, AMA Baltimore will host a signature event, the She-Suite Marketing Leadership Panel. Taking place from 6 to 8 pm at Price Modern, the event will kick off with networking followed by a panel featuring marketing leadership from the non-profit, higher education, and technology sectors.
Hosted by: AMA Baltimore
3/4
Women's Leadership Forum
Join over 300 women for an exciting day of empowerment, learning workshops, networking, and vending. WLF is a venue for women to come together and experience other positive, influential and uplifting women from all walks of life. Women are able to acquire knowledge, obtain resources, and make connections that will help them elevate to reach their goals through various learning methods. Our vision is to be an event that brings inspiration and transformation to all women in a safe space.
Hosted by: Notre Dame of Maryland University
3/5
American Advertising Awards
Gone are the days of the three-martini lunch. Or are they? Get ready for a truly special experience as Baltimore's advertising community reunites to celebrate 100 years of the AAFB. Don't miss this year's extraordinary celebration, hosted at Port Discovery—a veritable Wonderland in its own right. On March 5, we invite you to tumble down the rabbit hole and join us in commemorating 100 years of the American Advertising Federation of Baltimore (AAFB).
Hosted by: AAF Baltimore
3/7
MICA Grassroots Design Fest
MICA Grassroots DesignFest, sponsored by the T. Rowe Price Foundation, is an amazing opportunity to contribute to the social change movement in Baltimore while collaborating face-to-face with other designers and nonprofits. Teams of volunteer designers work with grassroots nonprofits to prototype logo designs, website updates, branding strategies, and more – all in one jam-packed daylong event.
Comics & Zines on the Risograph
Learn how to use the Risograph to its greatest strength, high-speed, affordable color publishing of zines and comics. The Risograph is an affordable, eco-friendly high-speed duplicator, made in Japan. In true punk-rock style, we'll create analog layouts using collage materials, hand-written and hand-drawn elements, creating literary and visual multi-page publications.
Hosted by: Baltimore Print Studios
3/9
Representing Baltimore–A Spotlight on Local Creatives
On Monday, March 9th, AIGA Baltimore will host the first in a series exploring the need for more diverse representation in the design industry and our city's creative spaces. Join us at Flatform Studios for a night of inspiring presentations followed by a panel discussion on representation—as it pertains to the unique perspectives of the creative entrepreneur—featuring Jermaine T. Bell, Kaya Gordon-Levi, and Caprece Ann Jackson, and moderated by Charlotte James.
We all know Baltimore has a rich cultural heritage of innovation in the arts, music, and fashion, largely shaped by the immense contributions of the African American community. Unfortunately, this same community has been disproportionately underrepresented in the professional world of design and many other creative professions.
Hosted by: AIGA Baltimore
BCAN Help Desk – Building Your Cooperative Business
Co-op curious? Join Emily Lerman and Aishah Afadhalah for a drop-in discussion on worker-owned cooperatives and how their team is using a co-op model to build Mera Kitchen Collective. You'll learn more about what a co-op is, why they are important, and gain resources for building and starting a co-op of your own. They'll offer pro-tips on using the business model canvas as a startup tool, mitigating risks, starting a small food business, and managing finances.
At Noon, we'll kick off a more structured lunch & learn discussion on capitalism, cooperatives and why we hope to see more co-ops in Baltimore and beyond. You bring lunch – we'll bring the desserts!
Hosted by: BCAN & Mera Kitchen Collective
Screenprinting on T-shirts
This half-day, hands-on workshop covers all the basics of t-shirt printing. This is a followup class to our Intro to Screenprinting workshop. Attendees will learn what is unique about printing on apparel, appropriate inks, and mesh, how to set up multi-color prints and have a chance to print many different designs. No experience is necessary, but since this class is intended as a followup to our other Screenprinting workshop, attendees must take both classes before renting time in our studio.
Hosted by: Baltimore Print Studios
3/11
Graphic Means, film screening and Q&A with Briar Levit
Graphic Means is a feature-length documentary about the history of graphic design production after the letterpress, focusing on the phototypesetting era and the transition that occurred as a result of the Digital Revolution. A discussion/Q&A with Director and Producer Briar Levit will follow the film.
Briar Levit, the 2020 Graphic Design Juror for YCP's Annual Juried Student Exhibition, is an assistant professor at Portland State University in Oregon, where she teaches typography, page layout, and studio design classes. She graduated from San Francisco State University, with a BA in Graphic Design, and from Central Saint Martins College of Art and Design (UAL, London), with an MA in Communication Design. Her passion is designing for content-driven projects—primarily in the publishing and cultural institution sphere. Her clients include Museum of Contemporary Craft, Flooded Fox Den Distillery, Sasquatch Books, Critical Craft Forum, Timber Press, Counterpoint Press, Seal Press, Bitch Media, and Cicada Books.
Hosted by: York College Art Galleries
3/12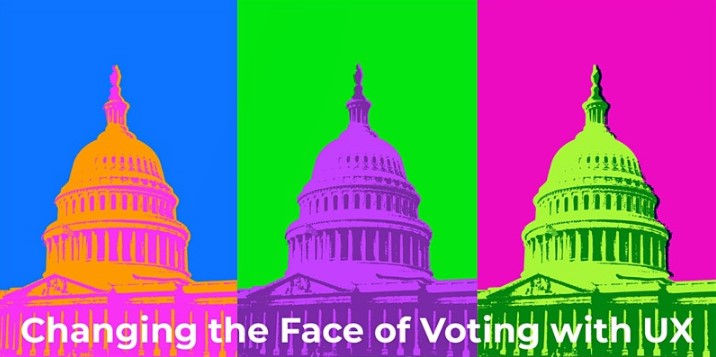 Changing the Face of Voting with UX
Design has the ability to include or exclude people. Join us for an "Intimate Conversation" with Kathryn Summers about making voting inclusive and accessible through design. We will be discussing the implication of bad design and its implication on the voting process in the wake of the 2016 election and the coming 2020 election.
Hosted by: Ladies Wine and Design Baltimore
3/14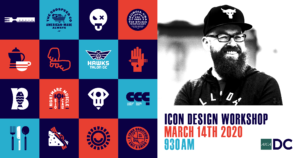 Icon Design Workshop
AIGA DC has teamed up with Scott Fuller of The Studio Temporary for a brand new icon design workshop! In this 4-hour class, we'll be focusing on a very interesting subject…you! We'll start with a walk through Scott's personal work process, exploring the research, inspiration, and execution of a few of his icon design projects. Then comes the fun part: sketching and ideation of your own personal icon set! It'll be a hands-on experience, so please bring notebooks, pencils (or pens, if you prefer) and a laptop with Adobe Illustrator.
Hosted by: AIGA DC
Intro to Screenprinting
This one-day, hands-on workshop covers all the basics of screenprinting. Attendees will learn first hand how to properly coat, expose, print from, and clean a silkscreen. Differences in inks, printing substrates, screen mesh, and film work will all be discussed, and various multi-color registration techniques will be covered. This class will provide you the skills to return and rent time to print your own work during our regular studio hours.
Hosted by: Baltimore Print Studios
3/19
BCAN Connect – We Own This!
There is no doubt about it, the future of entrepreneurship is certainly female. Join BCAN to celebrate the unique spirit of Baltimore's female founders. To start off the evening, attendees will enjoy a networking cocktail hour, followed by an intimate moderated discussion with female founders from Baltimore City. The evening will conclude with mingling and treats from local women-owned businesses! For all the female founders, entrepreneurs, and business owners out there, this one's for you!
Hosted by: BCAN
3/21
BCAN Help Desk – MDVLA Art Law Clinic
Are you a painter, musician or any kind of creative entrepreneur that lives or works close to the Baltimore / DMV area? Do you have legal questions or concerns? Come visit our Art Law Clinic in collaboration with the Maryland Volunteer Lawyers for the Arts on March 21st, 2020, 1-4pm at BCAN HQ!
For our March clinic, you can snag a FREE 30-minute consult w/ one of our volunteer attorneys to sort out any general issues or questions you might have!
Hosted by: BCAN
3/25
SoDA Classic: Conversations In Design History | Reception
SoDA Classic is an exhibition celebrating 13 years of programs by the Society for History and Graphics (SHAG) and it's reemergence as The Society of Design Arts (SoDA). View the past programs from a selection of the best posters and a look forward to the future of presentations and presenters as we explore new horizons in design.
→ Attend the Event at Stevenson University!
Excellence In Print
Get Your Tickets to Excellence in Print. The biggest event of the year. The competition is fierce. Who will bring home the wins?  You have to be there to find out.
Hosted by: Printing and Graphics Association MidAtlantic (PGAMA)
Tech Happy Hour Mixer
Baltimore Womxn in Tech is hosting a tech happy hour mixer on Wednesday. March 25th at Spark Baltimore. This event coincides with The Nonprofit Technology Conference (NTC), which is hosted in Baltimore this year.
Hosted by: Baltimore Womxn in Tech

3/26
Glass Blowing & Networking
Join Monument Women's Creative Alliance on March 26th at 6pm for networking with a creative twist. You will be led in an activity where you'll make a unique one of a kind pendent. Keep it for yourself or gift it to a friend and add one of the chains we provide. Enjoy a spread of great bites to eat from the Abbey Burger Bistro, as well as wine provided by Vectors Southand beer from O'Connor Brewing Co. All food and drinks are included in your ticket price.
Hosted by: Monument Women's Create Alliance
3/29
Intro to Letterpress
Our one-day letterpress workshop covers all the basics of letterpress printing on a Vandercook and a C&P tabletop press from our collection of antique wood and metal type. Attendees will learn how letterpress printing works, how to hand-set wood and metal type, mix ink, print from type and polymer plates, and how to troubleshoot printing and press issues.
Hosted by: Baltimore Print Studios

3/30
AIGA Design Conference 2020
The 2020 AIGA Design Conference brings the design community together in a once-in-a-lifetime, cross-disciplinary exchange of ideas about the changing world of design. Recharge your career with thought-provoking presentations, professional training, and meetups with design luminaries while taking in the City of Bridges.
March 30–April 1, 2020, in Pittsburgh, PA.
Hosted by: AIGA | The Professional Association for Design

April Highlight
4/2
Flourish: PCB 2020 Production Show
The demands on creatives and marketers continue to branch out into new directions. Your clients want solutions faster, cheaper, greener and more unique. And without a sense of the latest production techniques and technologies, project timelines and budgets can get out of control, leaving even the most seasoned designers and production specialists in the weeds.
Join the Production Club of Baltimore, along with hundreds of other local creative and marketing professionals, for an evening of networking and fresh production ideas from the mid-atlantic's very best printers, paper suppliers, image producers, and technologists. Grow your swatch book collection and sample library. Cultivate new vendor partnerships. Seed your future project timelines with new media. Dig into deeper relationships with fellow creatives by face-to-face networking. This is a time to flourish!!
Hosted by: Production Club of Baltimore
---
Got an event you think belongs on this list?
We'd love to hear about it! Email us at promotions@baltimore.aiga.org with your event information.
---