AIGA Baltimore was thrilled when local Baltimore design studio idfive agreed to be our Branding Sponsor for Design Week 2018.
Since 2013, we have reached out to a local design agency to partner with us and bring Design Week alive visually. Past partners have included Fastspot, Orange Element, Gilah Press + Design, Eye Byte Solutions, and Exit10.
This year, we want to bring you behind the scenes with our Branding Sponsor, idfive, to learn more about their inspiration for this year's branding for Design Week, their work outside of AIGA Baltimore, and what their company is all about!


What was the inspiration for idfive's Design Week Branding?
I wanted to take this creative opportunity to address what I think is the central issue in Baltimore – the "two Baltimores" – by attempting to build a visual system that would unify, represent, and complete the "feel" of Baltimore. I thought about the disparate ways our City has been represented visually – a sort of mishmash of the old (cobblestones and gas lamps), the new (modernist/brutalist architecture), and the forgotten (formstone, Waters-esque camp, The Wire).
I kept getting hung up on was the source of many of our current divisions – the 1937 Federal Home Owners' Loan Corporation (HOLC) "redlining" map. So I suggested to our designer Heather that we re-use, re-purpose, and "break" shapes and forms from that tragically unjust document as a way to acknowledge our City's past and represent its current divisions, while still looking with hope toward a more unified future.
The tagline was a natural extension of this visual theme, tied back to design.
What were the steps involved in creating the branding?
We divided a volunteer squad of six creative team members in to three teams of two (a copywriter and a designer), hashed out rough concepts separately, and came together under the guidance of Courtney Glancy to critique and tweak.
I can't speak to the other teams' processes, but for me and Heather, beers, dinner, and doodles on some cocktail napkins in Hampden were all it really took to come together on concepting. Heather and I have complementary strengths and work together well. I'm very analytically minded and always try to zoom out to process everything on the level of overarching themes and concepts, and she lives in the nitty-gritty of the execution phase where she's amazing at expanding and exploring concepts within a consistent visual language.

What was the inspiration for being a part of Design Week 2018?
Courtney asked us, "wanna do it?" And we said "hell yes!"
What was the goal of the Design Week branding?
Try to answer the questions:
"What is Baltimore design?"
"What should Baltimore design be?"
"How can we represent Baltimore in a way that feels like Baltimore?"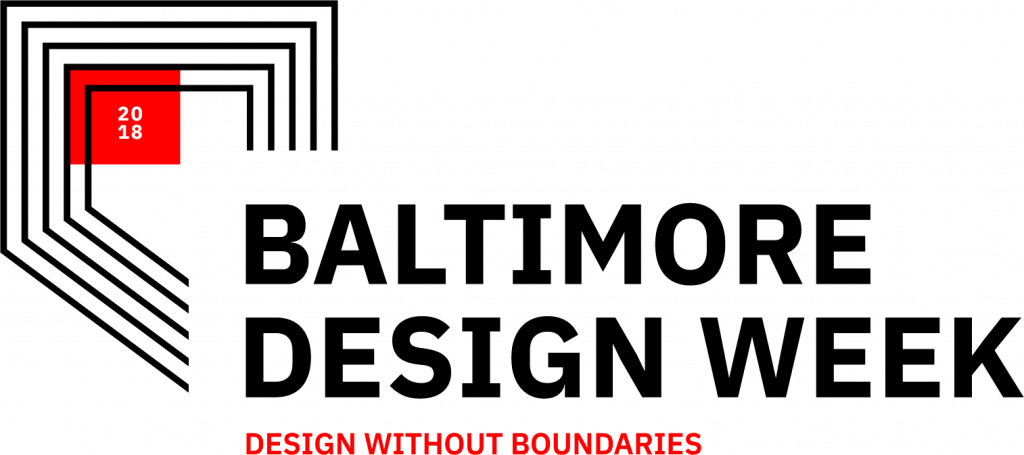 Could you explain an exciting idfive project completely unrelated to AIGA?
We're currently redesigning the website for Maryland Food Bank, which distributes 37 million meals every year to people in Maryland. You can't ask for a more inspiring client than that. As a copywriter, any time you find yourself shedding tears while you're writing, you know you're on the right track. Whoever's reading this should donate.
What are your typical process steps? Do they differ from the work you did for AIGA?
Usually I start with a task list item, then go back and research the brand or the industry until I find an angle of entry, then organize my thoughts into buckets, and execute. I typically think slow and work fast. The process for AIGA was similar, but since the task wasn't laid out with really any specificity, I also got to jumpstart my usual process with my own questions – "What do I want this task to be?" "What don't I want this task to be?"
Your firm recently made a big move to the MICA campus. What's your favorite part about the new location?
Anytime I need a boost or a break, I can walk through a gallery space and see something interesting, or pop into the library and flip through art books.

How do you typically find your clients?
I let the new biz team handle that, and my focus is on doing high-quality work that makes their job easy.
What's an ideal day at the office like?
A nice varied mix of tasks, some deep workflow where time has no meaning, some lightning round problem solving whack-a-mole, some positive client feedback when you check your email, some solid belly laughs with other team members, and that feeling at the end – when you fill out your timesheet – of "I just knocked this one out of the park." And also idfive bought us pizza.
What is idfive's mission? How did it come about?
Our whole thing is helping mission-driven brands do good better. So we do things like no-commission media campaigns, and website redesigns that are built to drive action AND help build more efficient governance structures. The whole setup is pure Andres, who is without a doubt the best boss I've ever had.

If you could describe your team and work philosophy in 5 words, what would they be?
How can I help? Oooohdonuts!
What's your vision for Baltimore? For Maryland?
I'd like to see Baltimore, Maryland, and America transcend its entrenched divisions, build sustainably and fairly, and keep on being weird and wonderful.