Complete and utter madness yields lovely, lavish design…GO BALTIMORE DESIGN WEEK!
– Seth Kaiser, Bmore Design Week attendee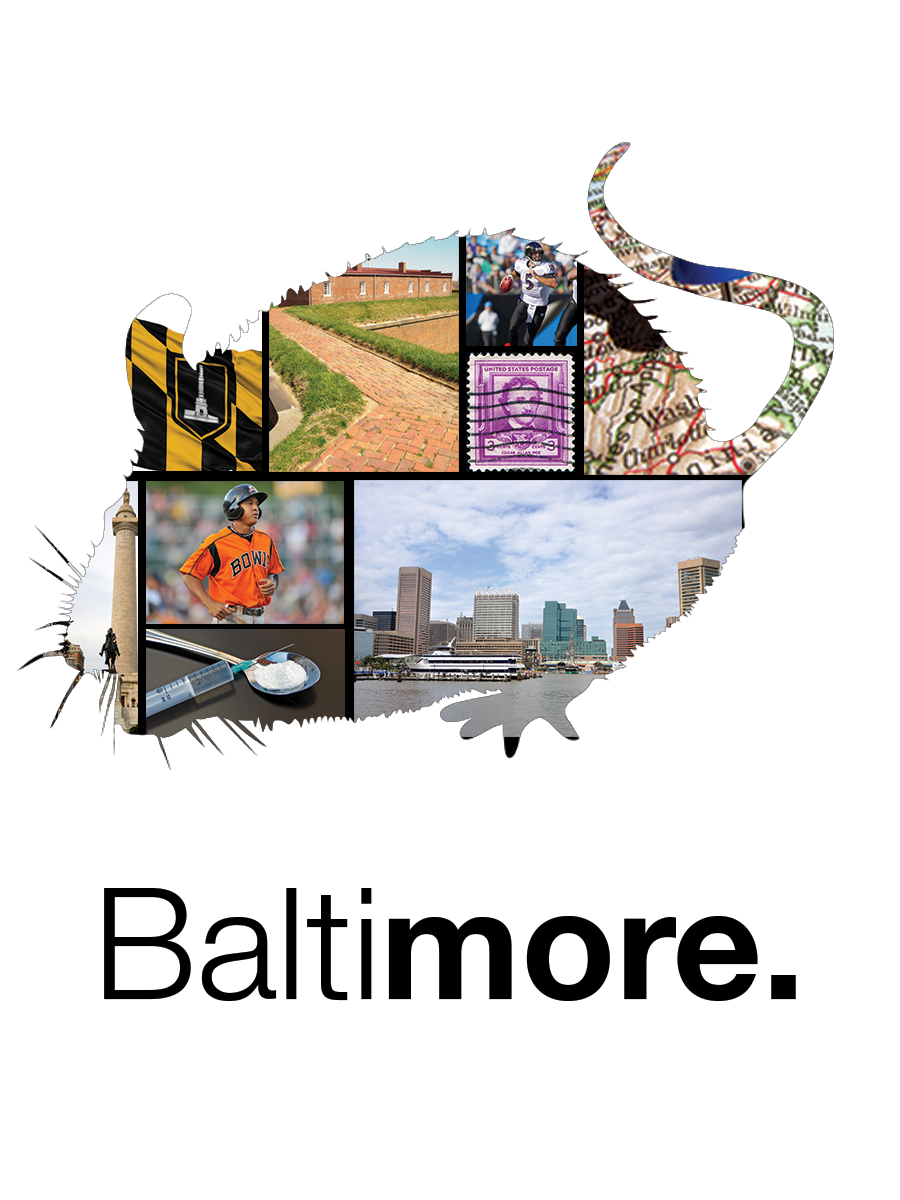 Aw, rats…
On October 15, we began our first annual Bmore Design Week: five days of celebrating design in Charm City. While there's no shortage of art festivals year-round, Design Week gave us the opportunity to show how the celebration of our local pop culture can become great publicity work for the town and its people.
The opening event was the Out of My Hands Workshop where, Sharpies at the ready, designers got together to create a unique Baltimore alphabet inspired by this great city. Helen Armstrong and Zvezdana Stojmirovic, authors of the book Participate: Designing with User-Generated Content, kicked off our Design Week with a unique workshop where designers let go of control and allowed their visions to be built as a team. Each designer was given a sheet of paper with an outlined letter and asked to designate a rule or guideline inspired by Baltimore that would guide the next designer to fill the letter with images related to that rule. AIGA's Jennifer Marin was intimidated by the thinly outlined letter and its theme at first. "Would I go abstract and choose a theme that would stifle the next person's creativity? Or a more cliché concept like Baltimore Crabs?" she asked.
After a few minutes, she chose "Salty Like Old Bay" as the topic of her letter. Some of the other letter themes included the Ravens, Baltimore City Rats, Waterfront Living, Brick Row Homes, and the good old 695 Traffic Jam. In five minute intervals everyone passed their letter forms to the right and watched as a unique alphabet was born. It was great to see how each person interpreted the individual themes.
A special thank you to all who attended, Helen and Zvez, and MICA for donating the space. Stay tuned to see the final artwork.
Tuesday brought us to Mother's in Federal Hill for Industry Trivia Night. As the teams entered the bar with names like "The Ringers" and "Winner Winner Chicken Dinner," it was obvious we had assembled some creative people for this challenge. The questions covered design, the printing industry, advertising, marketing, photography, and Baltimore.
Our trivia host, Patrick Storck, asked 50 questions that got trickier with every round. Who designed the Nike Swoosh? What musical was based on a 1990 John Waters movie (not so fast: Hairspray was made in 1988)? Pantone mugs, camera lens shot glasses, and other design-related prizes awaited the victors.
Wednesday exploded into Creative Alliance with the Shutterstock-sponsored Pixels of Fury, an 'art fight' where the contestants are given 20 minutes to dream up, design, and finish a project, the subject of which is revealed at the beginning of the round. National President of AIGA, Doug Powell, and Bob Shelley, AIGA Baltimore's first chapter president were on hand as a judges. The first round of designers were Dave Colson, Sarah Jennings and Dirk Torrijos, their task was to create something that inspires them about Baltimore.
Round Two saw Micah Piccirilli's crab project and Bob Gillespie's crab project fighting each other, while Jill Blum chose a Smalltimore theme. Each minute revealed something new and clever in each design, some added seconds before time was up. Judges and audience voted Micah into the Championship Round.
Sarah came into the round slowly, carefully choosing the right images for her Bmore Rat frame, while Micah ran with a representation of our friendly President Street windshield maintenance crew. Sarah won the judges, Micah won the audience, and everyone went out to John Davis' photo set-up to act silly for the camera.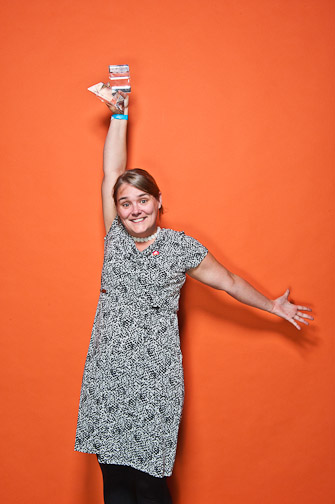 Sarah and the coveted Furious Pixel
Local design studio Post Typography gave a brilliant lecture on Thursday. In a beautifully rustic and open space at 2640 Saint Paul St., guests came and gathered round for local treats, pies from Dangerously Delicious Pies and coffee from Zeke's Coffee. We settled down in our seats to enjoy custom lettering and hear stories of success, great misses, and ways to approach the same project differently each year.
Friday saw attendees visiting three of the city's design studios. First up was Baltimore Print Studios, where Kyle and Kim invited us into their fully equipped letterpress and screen print shop in Station North. They explained the different presses in the studio, the history of printing, and led the attendees in a hands-on press demonstration.
Next was Fastspot, housed in a Butcher's Hill rowhome, where Kurt showed the group around and explained the history of the firm and the type of work they do. He talked about their workflow and the culture of the studio: open-concept, no doors, and different types of work stations.
Our last tour was B. Creative Group, an inter-disciplinary studio in Woodberry. Described by the owner, Christian, as a creative agency, the studio does both print and web design for regional and national clients. During the tour, we got insight on how B. Creative Group develops within a collaborative environment while seeing examples of their award-winning design work and a recent proposal.
The first annual Baltimore Design: some were inspired, some were educated. Everyone definitely had a blast. Clear that calendar for October 2013 because as good as it was this year, it will be a do-not-miss event for sure as we'll also be celebrating AIGA Baltimore's 25th anniversary!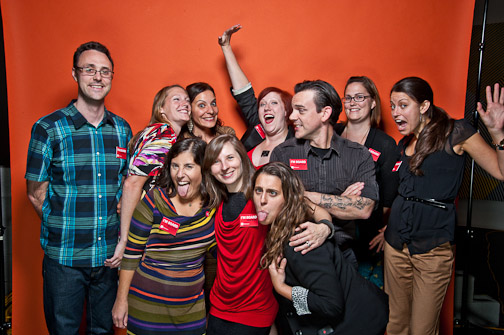 AIGA Bmore. We're a little… different.