Ink & Pixels Goes Virtual!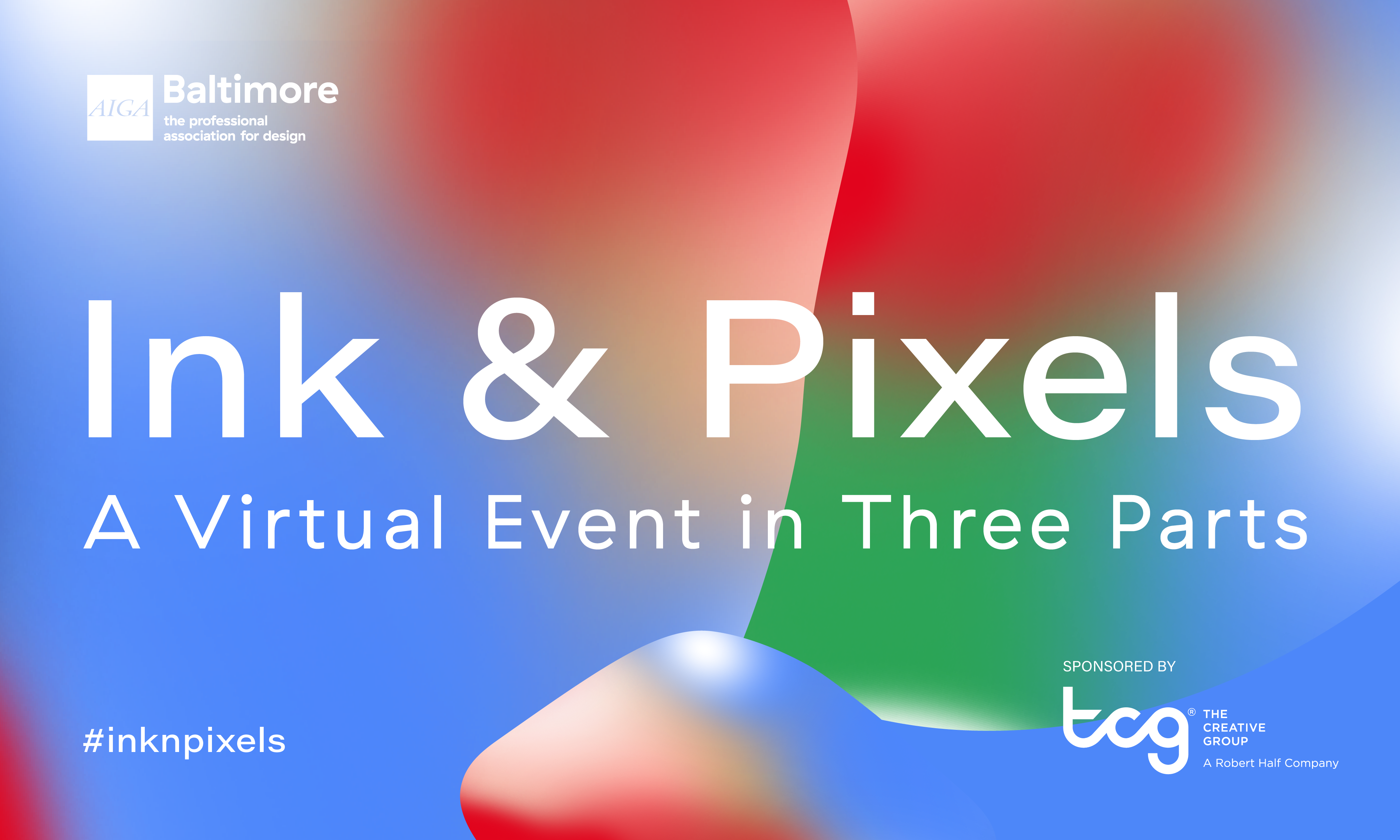 Take The Next Step Towards Your Design Career
Thinking about the job market during these uncertain times can be daunting for designers at all levels of experience.  Whether you want to make a good impression in interviews, need a new perspective on your portfolio, or want fresh eyes on a current project, we're here to help. Ink & Pixels is one of AIGA Baltimore's largest events focused on helping designers prepare for a career or career shift. Due to the COVID-19 (Coronavirus) and our current Stay-At-Home mandate, AIGA is transitioning our in-person event, (originally scheduled to be held at Morgan State University on April 18) online! Now more than ever, we believe in the importance of finding alternative ways to come together in the community and share the knowledge and resources we have with each other. All events are free to attend!
Virtual Ink and Pixels (VIP) is now a series of events hosted online:
1. If I Knew Then What I Knew Now – Designer Panel
Saturday, April 18, 12:30–1:30pm
Join us via Zoom for an informative virtual discussion between AIGA Baltimore's programming chair, Vaibhav Sharma (moderator), The Creative Group (TCG), and two experienced designers representing different aspects of the design field.
Our panelists include: 
Alexander Reynolds, Senior Creative Recruiter at TCG
Perry Sweeper, Design Strategist
Emilee Beeson, Designer and Illustrator
2. Roundtable Workshops
Saturday, May 2, 10am–12pm
Here's your chance to get (virtual) face-to-face answers to those questions you've been Googling. Join our Zoom roundtable discussions with experts on a variety of topics such as Freelancer Finance, Finding Your Creative Community, How to Get Hired, and Building Your Social Media Following. Space is limited!
3. Portfolio Reviews
Portfolio reviews are designed to give students and transitioning design professionals advice and insight that will improve the way they present themselves and their work. AIGA Baltimore will match each reviewee with two to three reviewers, then provide contact information so the pairs can meet virtually on their own time for portfolio critiques.
Reviewees
Practice your interview skills and receive honest feedback about your work through Google Chat, Zoom, or whichever online platform you choose.
→ Learn More & Sign Up to become a reviewee.
Reviewers
This program works because of amazing volunteers, like you! If you have the capacity to review a few portfolios, please sign up to be a reviewer today.
→ Learn More & Sign Up to become a reviewer.