Krystal Cotriss (Carpintieri) is the Lead Designer & Content Strategist at a local supply chain & automation company, Barcoding, Inc. Throughout her career at Barcoding thus far, she has helped lead the launch of IntelliTrack, the launch of a re-branding for Barcoding, developed social media & email campaigns, create new websites with HubSpot, designed a comprehensive presentation template, and much more. She is also known as an award-winning graphic designer with 4 GDUSA awards, 6 Indigo Design awards, and 2 Baltimore American Advertising Awards!
She is a graduate of Stevenson University and holds a Bachelor of Science (B.S.) degree in Visual Communication Design. While attending Stevenson, she served as Vice President & Communications Chair for the AIGA Stevenson student chapter. Krystal is also a board member for the Litho Club of Baltimore and an active member & secretary of the American Advertising Federation of Baltimore.
What's your biggest challenge as a designer or creative?
One of my biggest challenges as a designer is staying inspired. Creative block is no joke! This is why I often take puzzle breaks and walk breaks. Another way I try to stay inspired is by writing articles about design, puzzles, technology, and pretty much any interests I have. Follow me on Medium for more content!
What's your favorite quote/philosophy?
I have so many favorite quotes from attending various conferences and events from AIGA. Here are a few of my favorites!
"Imagination is a design superpower." (AIGA LeadCon 2019). 
"Destroy the idea that you have to be constantly working or grinding in order to be successful. Embrace the concept that rest, recovery, and reflection are essential parts of the progress towards a successful and ultimately happy life." (Taylor Cashdan, AIGA Baltimore Design Week 2019)
"Do not fear the wandering path." (Jody Costa, AMA Baltimore Panel 2020)
What are your top 5 favorite movies? (in no specific order)
Office Space
Maximum Overdrive
The Running Man
They Live
Back to the Future
What's on your desk that you could not live without?
A few things come to mind—my Liz Climo daily calendar, sticky notes, pens, stickers I've designed, and my Jace crab from a shop called Made In Urbana. As far as technology goes, my Logitech MX Master mouse, Bose Headphones, and the Microsoft Surface Pen are super essential to my design work. PS: my desk is always unorganized so here's a picture of all these essential items on my puzzle board featuring a recent puzzle I completed, "Several Found Things (Numbers, Letters, Shapes)" by Four Point Puzzles.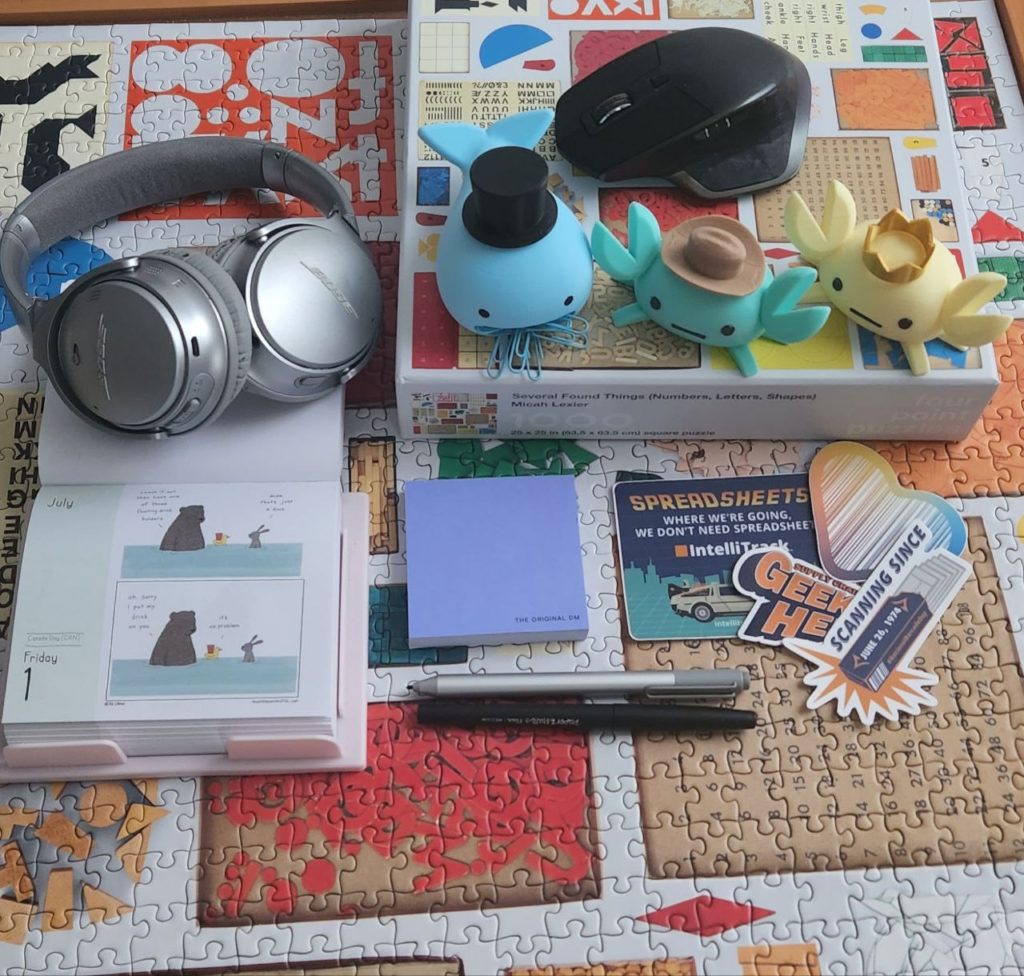 What sparks creativity for you?
Listening to music is one of my biggest passions in life. The drive to work is always much more enjoyable with a good Spotify playlist and music helps me be more creative. Check out some of my featured playlists: House Music, Throwbacks, Punk Rock, and DRIVE (63 hours of variety). 
My favorite genre of music is by far house music. You'll see me most likely listening to Duke Dumont, Kaskade, Disclosure, or Tiesto.
A few years ago, I recently started collecting vinyl records too and I love it! In my free time, I love to do puzzles and play some of my vintage (and new) vinyl.
What are some of your hobbies?
Outside of my design life, I love to do jigsaw puzzles and collect vintage puzzles! I have a collection of well over 100 puzzles from all different brands including some fun gradient and color wheel puzzles. Some of my other hobbies include buying all the seasonal Target birds, taking care of my house plants, and collecting lots of cute Squishables!