The Have A Nice Day Project may be the nicest thing going on in Baltimore right now – and this Design Week, you can be a part of the good vibes. At this social hangout, we'll write positive messages on blank coffee cup sleeves, designing to your heart's content. The sleeves are then donated to locally owned cafes around Baltimore– and your art will be personally loved by one lucky coffee-drinker.
We've been chatting with the business owners and community of southwest Baltimore and we're excited to have them host us for our next event. Join us on Tuesday, October 16 from 6-8PM to mix and mingle with good peeps and rock out one of the coolest give back projects in Baltimore.
THE PROJECT
We've ordered a bulk supply of blank coffee sleeves. While enjoying good food, drinks, and conversation, we'll be tasked with filling those sleeves with positive message, quotes, jokes, fun pictures and more.
We're donating them to locally owned Cafe Jovial (Pigtown). They will use those sleeves until they are gone, distributing them with coffee orders to their patrons throughout the week. How awesome will it be for someone to go to their favorite coffee shop, place their usual order, look down and see a fun message from you?
WHAT TO BRING
1. Yourself, your good vibes, and your appetite 🙂
2. We'll have some markers. If you want to bring your own or donate some supplies to the lot, we would think the world of you.
POP UP FOOD VENDOR:
Poppy Rose Kitchen & Co.
PARKING
Free street parking is available! This event is free and open to the public. Just let us know you'll be there by clicking "going" on the Facebook event!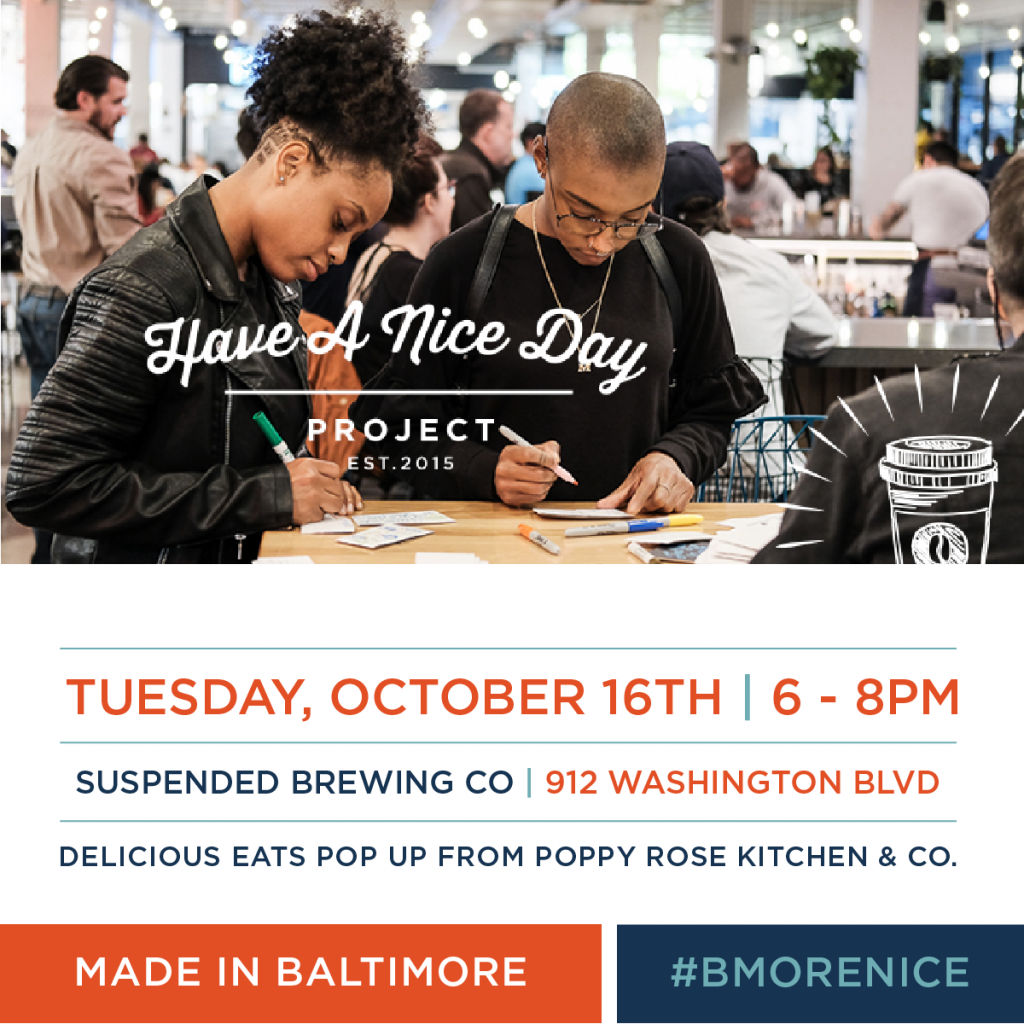 AIGA Baltimore Design Week 2018
This year's AIGA Baltimore Design Week is an exploration of topics related to the boundaries – real and artificial – that constrain, separate, protect, and define us. As designers, as Baltimoreans, and as people.
Join us, along with luminaries from Baltimore's academic and design communities, for a series of events and discussions in October as we look back at developments that shaped Baltimore design over the last year, and look ahead to what's next. See the full week of events here.