In January, AIGA Baltimore held a virtual Community Meeting to bring more voices into our plans for the year. Community Meetings like this were a bi-monthly occurrence pre-2020, and we plan to bring them back quarterly in 2021. Stay tuned for the next meeting in April and in the meantime, here's a recap of what happened in January's meeting.
AIGA Baltimore's mission, goal, and motto
To kick things off, we shared the main vision, goal, and motto that was shaped by past boards and has driven our chapter over the past few years. No matter what 2021 brings, we will provide value to the Baltimore design community by making new connections between individuals, groups, and ideas. Our goal is to act as cheerleaders for our community and to be a platform for members to take advantage of to lift their skill level, visibility, and voice. Our motto, coined by President Emeritus Joseph Carter-Brown, is that we're not "AIGA Baltimore," we're Baltimore's AIGA.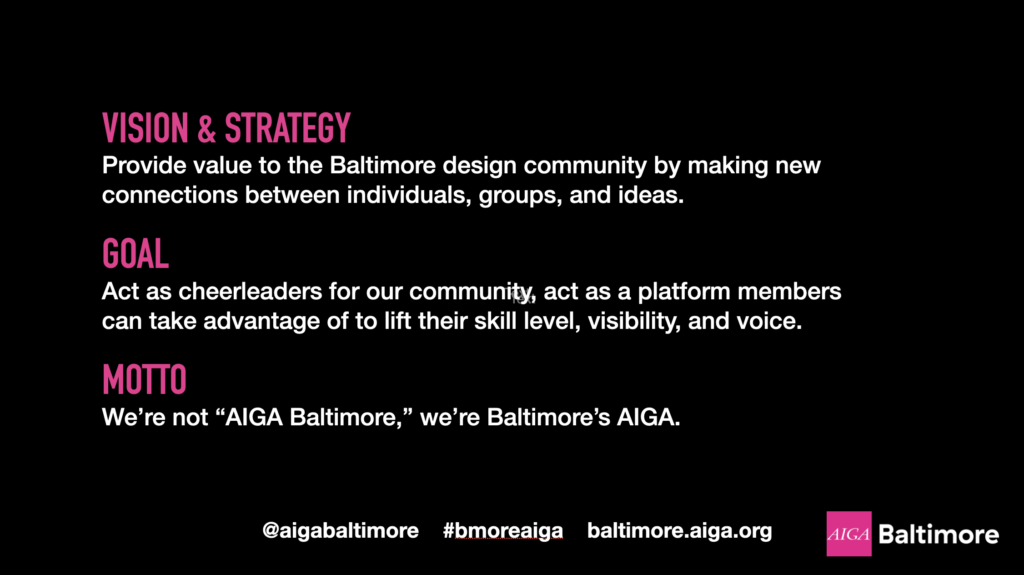 2020 Year in Review
Valerie Anderson, chapter President, gave a rundown of what AIGA Baltimore accomplished in 2020. Like all of you, the year looked nothing like we had envisioned, and it was a challenging year for a fully volunteer-run group. Nevertheless, we still managed to host 15 virtual events—on top of the 5 in-person events from Q1. One week before the shutdown, some of our board participated in a Bias Training workshop with the AIGA DC board. We partnered with wonderful organizations like Society of Design Arts, Ladies, Wine & Design, Baltimore Womxn in Tech, and the Asheville and Saint Louis AIGA Chapters to combine our powers on collaborative events, and we spread the word about other opportunities and events through our email newsletter.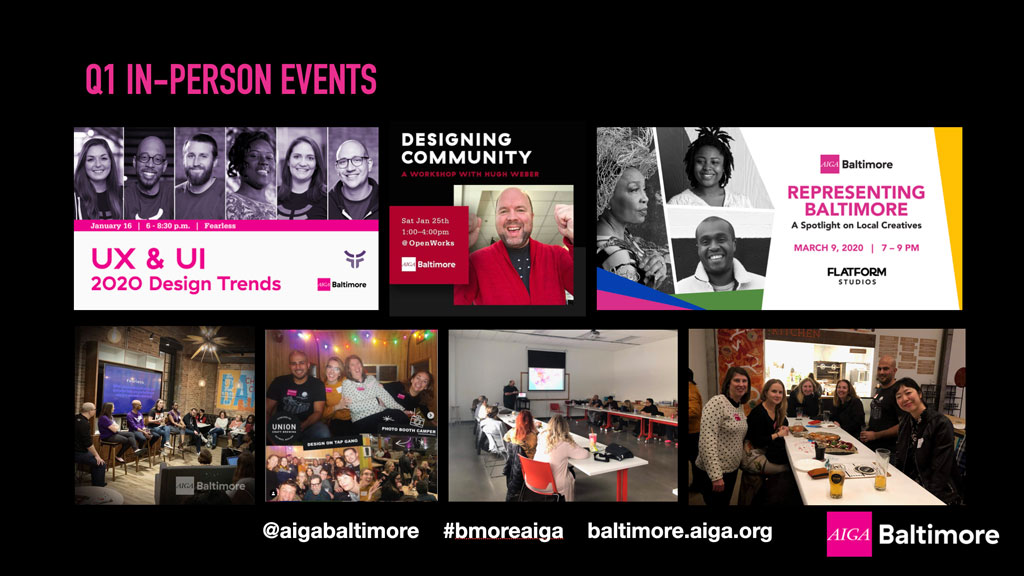 AIGA Baltimore 2021 Preview
We shared the 3 main goals our board set for the year during our January virtual board retreat sessions:
Innovation: Break the barrier of our virtual world to create connections with and among our Baltimore design community.
Partnership: Streamline an official process to utilize strategic partnerships to reach new and diverse audiences and bring value to our community.
Inclusion: Integrate Diversity, Equity, and Inclusion initiatives to better represent and be inclusive of the Baltimore community.
We then split up into breakout rooms and used Google Jamboard to discuss these topics and brainstorm specific ideas for the year. Our attendees shared that they joined the meeting to connect with other creatives in the area. We left feeling confident with our goal to foster connections, and we are already working on several activities for the Spring.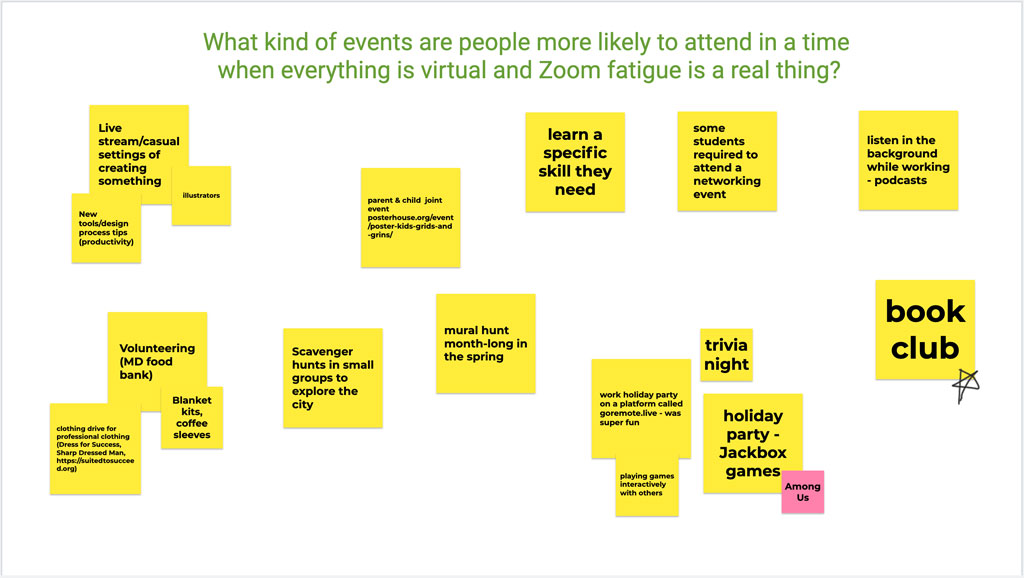 Want to help? Get involved!
We need people like you to make these things happen. We're currently looking to fill several open board positions, including Diversity, Equity, and Inclusion Chairs; Treasurer; Programming Chairs; Community Partnerships Chair; Communications Chairs; and General Volunteers and Committee Members. If you're passionate about bringing people together and using design to improve our world, we want to talk with you!