October is here. Temperatures are dropping (only to 85 degrees, apparently), pumpkin spice flavors are prevailing, and most importantly, DESIGN WEEK IS ALMOST HERE!
When you think of October, you likely think of Halloween and sweater weather. Ask an AIGA Baltimore board member what we think of when October arrives? Design Week! The annual celebration occurs during the third week of October, and 2019 marks the 8th Baltimore Design Week.
This year, we're reaching out to the community to broaden Baltimore Design Week into Baltimore Design Month. There are a plethora of amazing events in our area for creatives and creative professionals, so we're shining a light on these events by groups like the Society for History and Graphics (SHAG), AMA, PCB, Monument Women's Creative Alliance (MWCA), AIA, and more.
EVENTS LIST
Jump to:
WEEK 1WEEK 2WEEK 3WEEK 4WEEK 5
10/1
Design Cuts Live: Free Online Design Conference (October 1-15)
Design Cuts is celebrating their 6th birthday! Get in the spirit with two solid weeks of festivities: free sessions from top industry speakers, 800+ products at 92%-99% off, competitions, freebies & fun!
Hosted by: Design Cuts
Check it out
10/3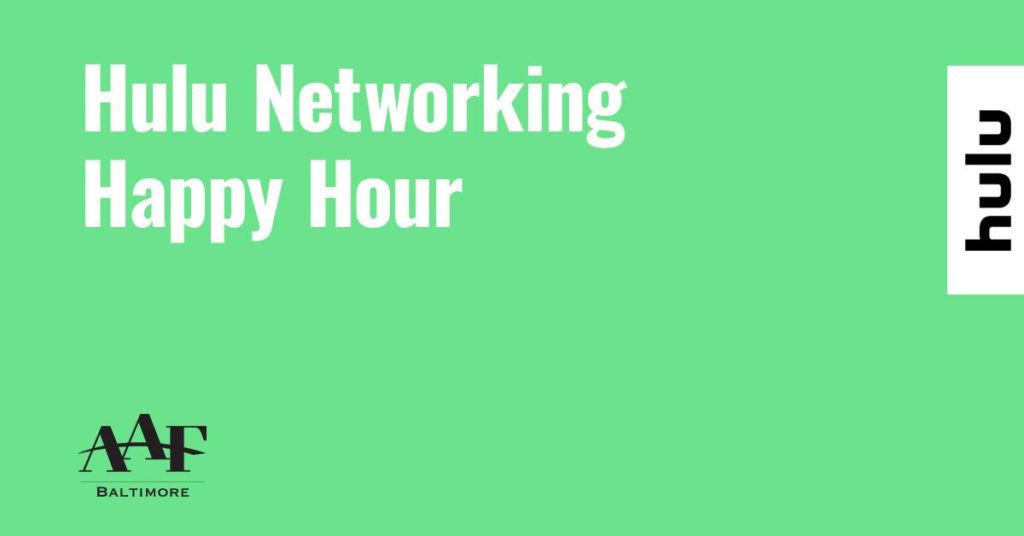 Hulu Networking Happy Hour
Join the American Advertising Federation (AAF) at Producers for an evening of Networking and fun brought to you by our friends at Hulu! Complimentary beverages and snacks will be served, and two lucky attendees will go home with a Roku.
Hosted by: AAF Baltimore
RSVP Here
Fells Point Art Tours
Take a guided tour through historic Fells Point, enjoying light fare while meeting artists and gallery owners. We'll visit a variety of local art venues including photography, paintings, sculpture, pottery, gift items, and more!
Hosted by: Luann Carra Gallery
RSVP on Facebook
10/5
Doors Open Baltimore (October 5-6)
Doors Open Baltimore is a free citywide event that invites the public to explore buildings and sites in Baltimore.
Highlights Include: Tours of the Hoen Lithograph Building, SNF Parkway, AVAM, and Sewlab USA
Learn More
Baltimore Innovation Week (October 5-11)
Baltimore Innovation Week is a unique opportunity to showcase the city's creative minds and forward thinking organizations who are part of the thriving innovation and entrepreneurship community. The week aims to highlight positive messaging within Baltimore's growing reputation as a hub for innovation across the United States.
View Baltimore Innovation Week Events
Edgar Allen Poe Festival and Awards
Poe Baltimore invites you to darken Poe's chamber door at the second annual International Edgar Allan Poe Festival and Awards, October 5 & 6, 2019. This free, two-day outdoor event will feature Poe-themed performances, art, vendors and food, celebrating Poe's life, works and his influence in the arts.
Tickets are required for tours of the Edgar Allen Poe house.
Register Here
10/6
Doors Open Baltimore: Hoen Lithograph Building Tour
During the tour, guests will learn about the history of Hoen Lithograph and its importance in the printing industry in Baltimore, as well as the overall vision for the existing buildings, future tenants, and surrounding community.
Right This Way
Baltimore Innovation Week (cont)
Edgar Allen Poe Festival and Awards (cont)
10/7
Design Thinking for Schools: Students, Teachers, & Community Collaboration
When people talk about Baltimore City Public Schools, we often hear about the problems. In this workshop, high schoolers, teachers, and community members will come together to view problems in BCPSS as opportunities to make our schools better.
Hosted by: Baltimore Innovation Week
Get Tickets
10/8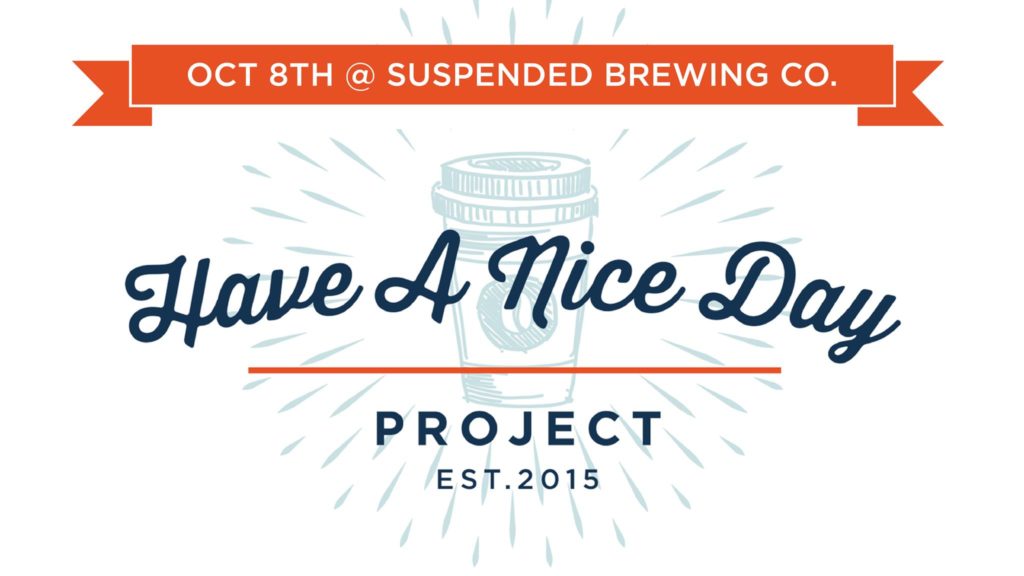 Have a Nice Day Project – Pigtown
While enjoying good food, drinks, and conversation, we'll be tasked with filling those sleeves with positive message, quotes, jokes, fun pictures and more. We're donating them to locally owned Cafe Jovial (Pigtown). They will use those sleeves until they are gone, distributing them with coffee orders to their patrons throughout the week. How awesome will it be for someone to go to their favorite coffee shop, place their usual order, look down and see a fun message from you?
Hosted by: Have a Nice Day Project
RSVP on Facebook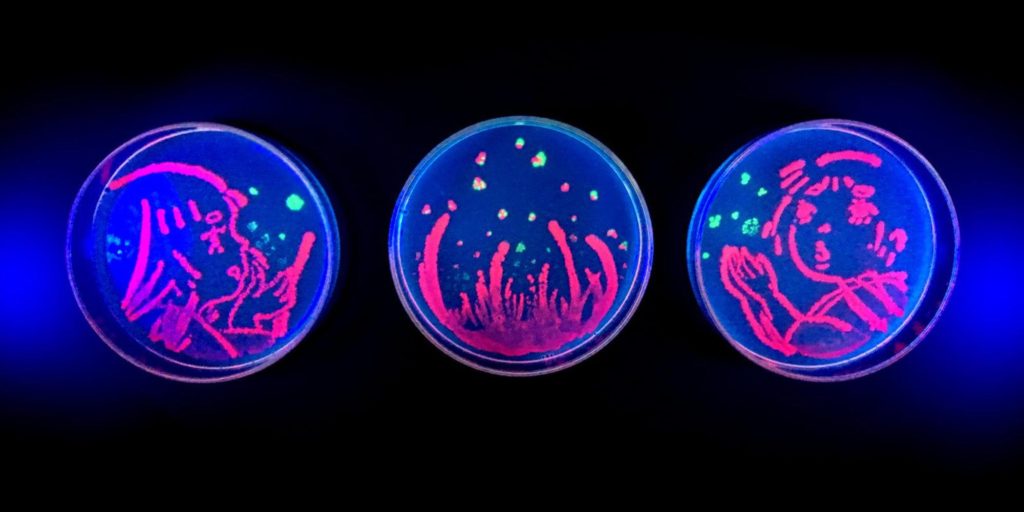 Biofabrication: Building with Life at the Intersection of Art, Science, and Technology
Join artist Ryan Hoover for an artist talk and backstage tour of the Maryland Institute College of Art's Bio Fab Lab – where student artists and researchers are building in collaboration with life, blurring the boundaries of art, science and technology to innovate futures that employ biocement sculptures to restore oyster populations and grow hair follicle germ cells to create synthetic animal-free wools.
Hosted by: Baltimore Innovation Week, MICA, and Baltimore Creatives Acceleration Network (BCAN)
Get a Ticket
10/9
An Introduction to React Native
React Native is a modern open-source framework for native app development developed and maintained by the team at Facebook. React Native is a cross-platform development tool, but unlike previous options, React Native uses native platform-specific interface components, making it both easy to program and highly performant.
Hosted by: Baltimore Innovation Week
Read More
10/10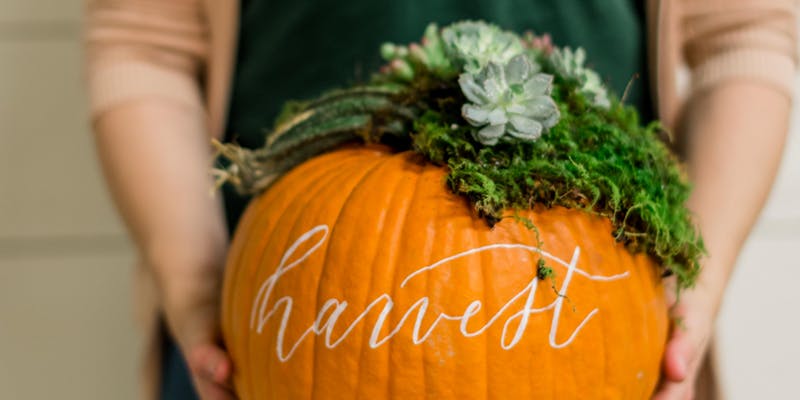 Pumpkin & Succulent Workshop
Get into the fall spirit by coming to decorate one of our Heirloom Pumpkin Succulent arrangements with custom calligraphy.
Hosted by: Eventi Floral & Events
Register on Eventbrite
Baltimore Innovation Week (cont)
10/11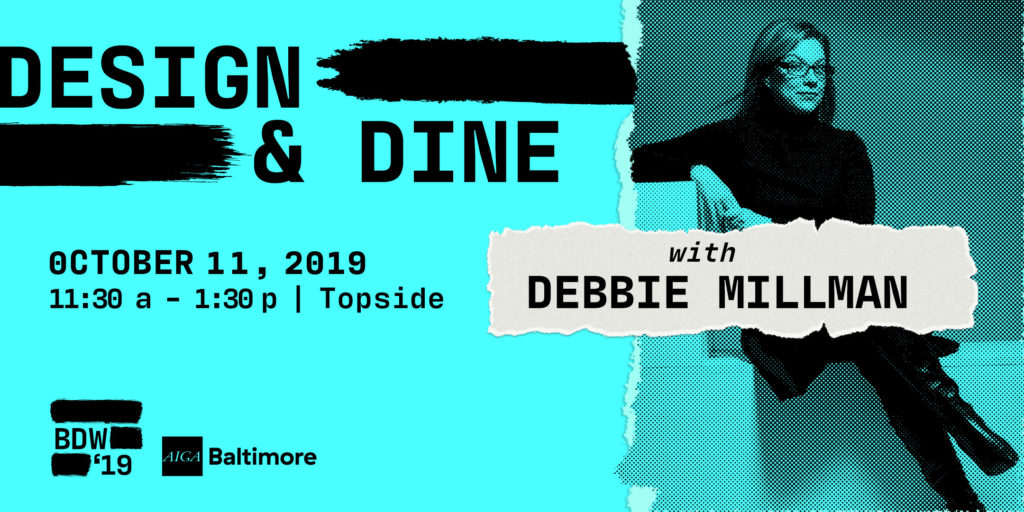 Design & Dine with Debbie Millman
Join us for a casual discussion led by the wonderful Debbie Millman, in which we'll explore how we portray our lives on social media. Named "one of the most creative people in business" by Fast Company, and "one of the most influential designers working today" by Graphic Design USA, Debbie Millman is also an author, educator, curator and host of the podcast Design Matters.
Hosted by: AIGA Baltimore
Get Your Ticket Now
Data & Technology in Social Innovation
It is generally accepted that data and technology serve as critical tools for innovation. However, we experience shortcomings in how we make these tools accessible to change agents and residents. In this session, we will explore platforms that are working to make data and technology more accessible and relevant.
Hosted by: Baltimore Innovation Week
Read On
10/12
Makers of Maryland Fall Meet Up
One of the best days of the year is almost here! The Makers Fall Meet Up will be filled with music, fun, food, drink, and hanging out with your fellow Makers! You will have your choice of ticket but everyone will be receiving a Swag Bag filled with goodies donated from your fellow Makers, a new Makers tee, & automatic entrance into winning one of the amazing giveaways we will have! Come enjoy a fun day with the Makers!
Hosted by: Makers of Maryland
Read More about the Makers Meet Up
10/16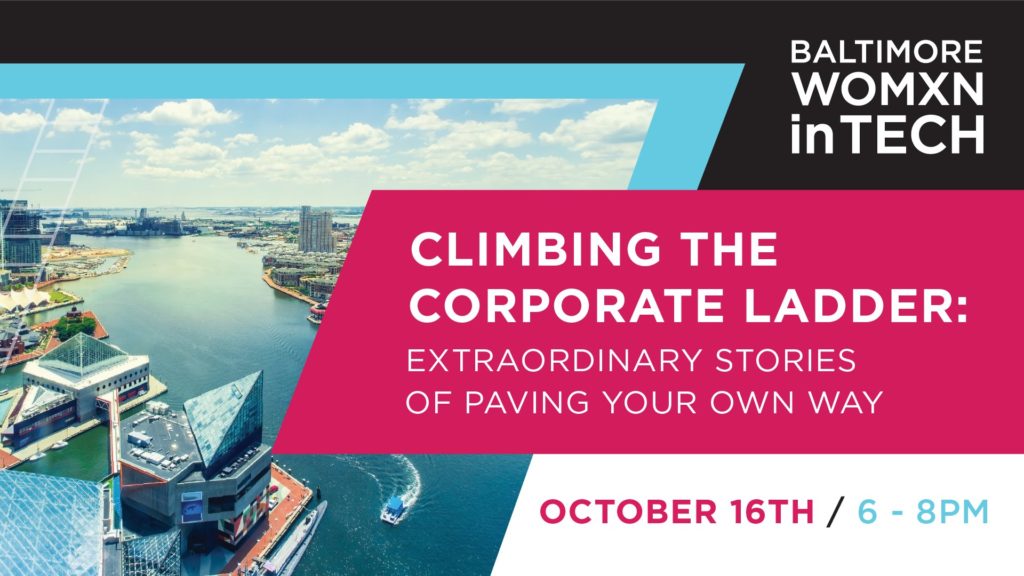 Climbing the Corporate Ladder: Extraordinary Stories of Paving Your Own Way
There has been a strong push to highlight gender inequality within tech, yet the question still remains: Why are there so few women in tech and in executive leadership roles? According to a recent Thomson Reuters study, 30% of 450 technology executives stated that their groups had no women in leadership positions. Only 25% of the IT jobs in the US were filled by women and 56% of women leave IT in the peak of their career. We all know the path to success is not a straight line. Baltimore Women in Tech has put together a stellar panel of noteworthy professionals to discuss this and their own journey of rising in tech. This event is open to all genders.
Hosted by: Baltimore Women in Tech
Get Your Ticket Here
10/17
"Legacy of Innovation" The Glasgow School: 1900-1910
Join SHAG at the Walters Art Gallery for a talk on design history, on Thursday October 17th. This event is free and open to the public.
Hosted by: Society for History and Graphics
Registration link to follow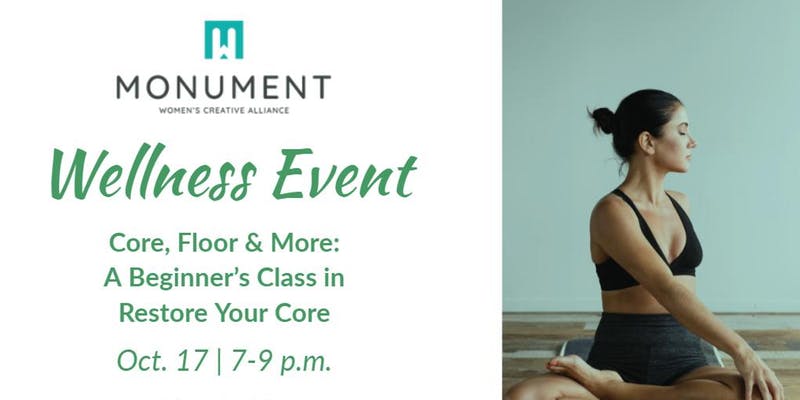 Restore Your Core
Monument Women's Creative Alliance is a women's group working to inspire, educate, connect, and unite Baltimore's creative community. This class, Restore Your Core, is a proven + comprehensive core and pelvic floor strengthening method that targets your whole body in order to regain function. It helps you learn to move better, exercise better, uncover movement compensation patterns, and create new patterns of strength, mobility, length and support.
Hosted by: Monument Women's Creative Alliance
Learn More about MWCA
10/19
Intro to Screenprinting
This one-day, hands-on workshop covers all the basics of screenprinting. Attendees will learn first hand how to properly coat, expose, print from, and clean a silkscreen. Differences in inks, printing substrates, screen mesh, and filmwork will all be discussed, and various multi-color registration techniques will be covered. This class will provide you the skills to return and rent time to print your own work during our regular studio hours. If you have any questions, please contact us at print@baltimoreprintstudios.com
Hosted by: Baltimore Print Studios
Tickets Available Now!
10/20
Beginner's Lettering Workshop 
Join Ashley Tiburzi of The Artsy Apple (@artsyapple) for her first ever in-person beginner lettering workshop!
Learn More
Baltimore Design Week: OCT 21-27

Have you ever wanted to play around with neon glow-in-the-dark paint or graffiti markers? Are you tired of hiding behind a computer screen day in and day out? Yearning to get a little messy? Join AIGA Baltimore and Jubilee Arts for a workshop in which we'll create props and graphics to display at Saturday's Fashion Show!
Save Your Seat
10/22

"I work best under pressure." "No worries—I'll get it to you ASAP." "It's fine, I can handle it." Sound familiar? It did for designer Taylor Cashdan as well, until he woke up one morning with the intent for a normal day. And instead, found himself in the cardiac wing of his local hospital for a short stay that included a lot of "we're not sure why this is happening."
Join AIGA Baltimore and Raleigh, NC. native Taylor Cashdan on Tuesday, October 22, 2019 at Co-Balt Workspace to discuss the dangers of ignoring stress, the toxicity of the 'hustle mentality' and burnout culture, and their overall contributions to living 'the creative life.'
Get Your Ticket
10/23


Come join The Society for History and Graphics (SHAG), AIGA, and Morgan State University's School of Architecture and Planning for a talk and workshop about how we might make space in the future. Application House is a speculative design project for a future house and neighborhood, after a brief talk about that project, you'll have the chance to participate in a collaborative workshop in which we'll draw a whole city.
Save Your Seat
10/24


Creativity. Collaboration. Community. Join us on October 24th at Pixilated to learn how to find your community AND make the most of it, with Illiah Manger of C&V and Rachel Davis of Your True Tribes. Register now for this free Design Week event – tickets are going fast!
Learn More
10/25


Join us for an exciting day of tours through four of Baltimore's innovative design and advertising agencies: Gilah Press, idfive, Jellyfish, and Mission Media!
RSVP Here
10/26


This Design Week, we're taking the conversation out of the screen, off of the paper, and onto the outfit. Join the Baltimore creative community on October 26th at Baltimore Artists Union as we experience a conceal and reveal fashion show, featuring a panel of five local design talents!
Join Us
10/27


There are so many versions of design thinking processes out there, from IDEO to Google Design Sprints. However, many don't dig deep enough into what Rachel Davis calls step 0: Problem Framing. Problem Framing is about asking ourselves, "What Else?"
Join us at iNovex's brand new offices in Columbia for this workshop as a part of Baltimore Design Week 2019. Lunch will be provided, courtesy of our hosts at iNovex Information Systems.
Get Your Ticket
10/29
Tobias Frere-Jones
Tobias Frere-Jones is one of the world's leading typeface designers, creating some of the most widely used typefaces, including Interstate, Whitney, Surveyor, Tungsten, and Retina. His typeface Gotham was used in the election campaigns of Barack Obama.
Hosted by: MICA and AIGA Baltimore
Registration link to follow
10/31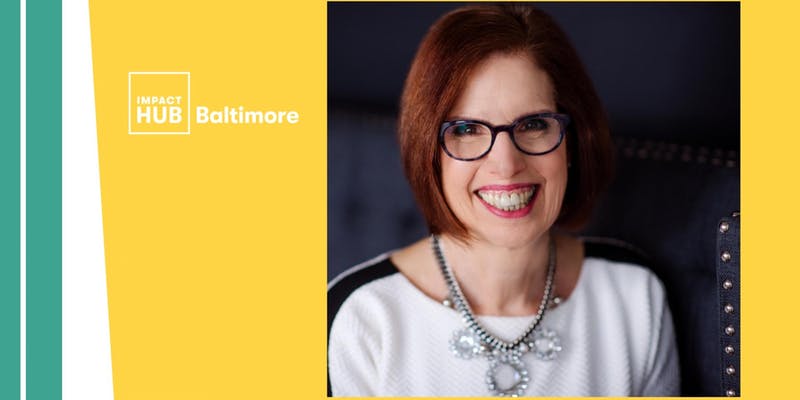 Success Coaching Skill Share
Do you find yourself juggling too many things and feel like you are not making progress? Do you ever feel stuck? Do you feel like work is always on your mind even when you are with family and friends? Would you like to spend more time working "on" rather than "in" your business? Then check out this free Skill Share event at Impact Hub Baltimore!
Hosted by: Impact Hub Baltimore
RSVP on Eventbrite
---
Got an event you think belongs on this list?
We'd love to hear about it! Email us at promotions@baltimore.aiga.org with your event information.
---